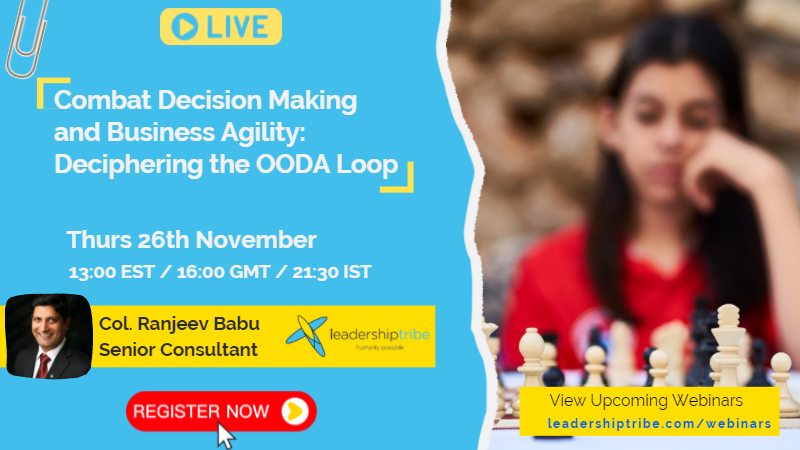 Col Ranjeev K Babu,VSM
Agile Coach & Facilitator | IC Agile Authorised Trainer | NLP Master Practitioner I Leadership Enabler @Leadership Tribe

An experienced trainer of leaders of the Armed Forces, Colonel Ranjeev has acquired vast operational knowledge having served in the Indian Army for over 25 years, including a tenure as a faculty member at the College of Defence Management.
Ranjeev now applies his expertise in understanding organizational/individual behaviour and specializes in team performance, business agility, and servant leadership in the corporate arena as a Coach, Facilitator, and Trainer.
Combat Decision Making and Business Agility:
Deciphering the OODA Loop
The OODA loop is fundamental to Combat Decision Making.
Decision-making in a combat scenario undergoes multiple iterations in near real-time. The outcomes of such decisions are extremely critical, often ensuring the preservation of life itself. It ensures the teams' ability to engage another day. The OODA loop is central to team-level mission execution under extreme combat conditions.
In this webinar, the speaker will discuss the similarities between combat situations and business agility by explaining the basics of the OODA loop
With his vast experience as a soldier and combat helicopter pilot and his current capacity as an Agile consultant, trainer, and coach, his talk will focus on agility in complexity. He will explore the zone where Agility and Combat overlap.
A space where teams are expected to operate with a high degree of sustained performance under near adverse circumstances.