POWER IS GAINED BY SHARING KNOWLEDGE NOT HOARDING IT.
We don't change who we are, we change who we think we are.
It all started in the year 2017… Would you believe we started out as a one-person company to render experience gained over 2 decades in IT? When we say IT, you could relate it to DevOps, Agile, Design Thinking, Organisational development, Leadership development & related services that help to achieve and succeed your business goals.
What we made as a small effort of sharing our experience with people as training's, consulting & coaching is today a fast-paced company with people from various geographies across the globe joining hands as one family. What we offer as products & services is a by-product of the "Value" we create for our customers.
It's important because we take "value creation" very seriously. And by 'value', we mean creating & leading, people & organisation's towards success.
As a team that works in helping organisations and people to success, it's hard to imagine that anything could be more effective at demonstrating their ability and bandwidth with one-to-one discussion. As you get deeper through our "About Us" page to know how we do it, we are sure you be interested to know our service offerings in detail.
No gimmicks, no sales or free trial, our belief lies in pure value creation to our end customers.
At Leadership-Tribe, we focus on building relationships & creating value to our clients & partners, so we can help them to succeed.
The primary focus is to help enterprises to implement the agile methodology by developing teams & facilitating the organisational culture change required for sustainable agile success.
With a strategic approach, superior execution coupled with training & support our Agile Consulting services help enterprises to cut cost & quickly adapt to change in business & IT Needs.
Core output is to automate your business with a combination of cultural practices, DevOps practice, & DevOps tools that would increase your enterprise ability to deliver results at high speed.

We help our clients to define their 'as is' and 'to be' states, and devise strategies at organisation / business unit / team level and business plan to achieve their vision and objectives. We also advise on the appropriate processes, practices and tools on demand.
We help our clients to identify dysfunction in their structures, systems and work flow, optimise and realign them to deliver the current business objectives, help them to become agile and customer focused, and develop plans to implement the new changes.
 We work with our clients to streamline and restructure the way they do business and deliver value. We help clients to coordinate and drive required changes in people, process, technology, to help clients to lower costs, build greater resilience, and improve performance
We help our clients to plan and execute Agile transformation. We assess their Agile maturity and readiness, address challenges and assist transformation with appropriate consulting and training, and anchor the change result with team mentoring and coaching.
We uplift our clients' ability to learn, progress and innovate through our renowned training solutions, including ICAgile-accredited classes as well as certification courses in Agile, Design Thinking, Building High Performance Teams, Leadership Training, etc.
We help our clients' teams and organizations to plan, manage and implement changes and be at their best. Our practice helps them to develop sustainable change and lasting results, achieve the required business outcome and realize envisioned benefits.
Our PMO practice helps the client to establish, lead, facilitate and deliver transformation programmes. We help to improve communication, obtain stakeholder buy-in, plan and monitor delivery, manage risks, issues and dependencies to ensure successful outcome.
We help our clients to reduce the cost and risk in their transformation journey by helping them to source the most suitable candidates with the right skills and fit for the organisation, on contract and permanent basis.
Our consultants and coaches are experienced in and passionate about developing the client's team to acquire new knowledge and skills, embed them in practice, and enhance the overall performance via mentoring and coaching.

We help to align culture & strategy for organisational development & leadership success with systematic learning & development strategy to change beliefs, values, & enterprise structure to a better level.
Explore a variety of certification training courses related to Agile, DevOps, Design Thinking & so on. You can check out a complete listing of online & face-to-face training events on our Training section.
"Success is a journey, not a destination."
We adopt a four-stage approach to develop and implement the optimal solution for our clients. We first understand their challenges, needs and objectives carefully. Then we help them to construct the business strategy and plan to achieve the organisation's vision and objectives. After which we apply our industry expertise and blend of consulting and training programs to up-skill teams and deliver creative, cost effective and sustainable solutions. And finally we evaluate the results and course correct to continuously improve performance and accomplish organisational objectives.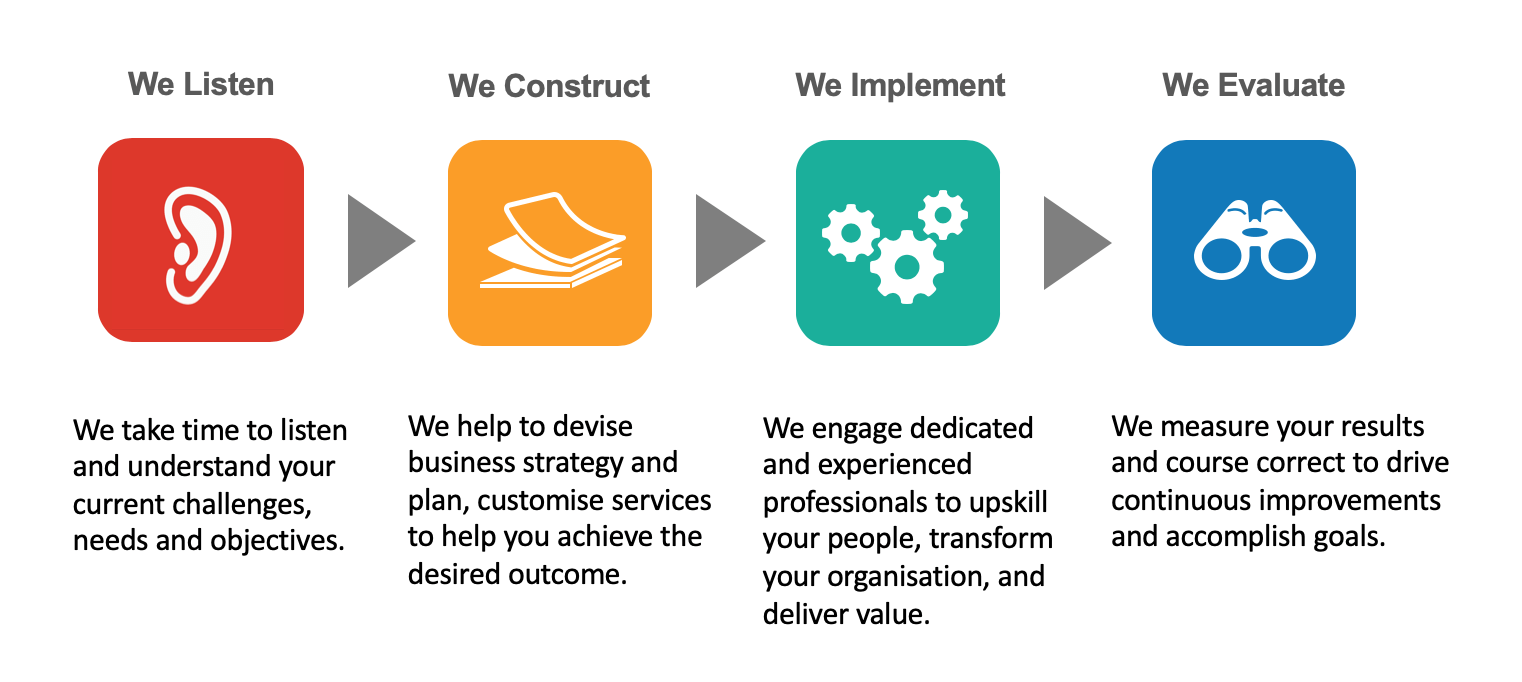 "Our value is the sum of our values."
We embed our values in everything we do, both internally in our team and externally with our clients:
Our clients are at the centre of everything we do.
We work with openness and honesty.
We evolve via constant learning, developing competencies and building resilience.
We work as one team to achieve a common goal.
We are committed to deliver optimal results for clients with excellence and integrity.
We trust and respect who we work with.
 At Leadership Tribe, we provide exceptional training solutions and consultancy services to address clients' knowledge and competency gaps, improve their competitiveness, enable them to implement transformational changes and achieve desired personal and business outcomes.
"Coming together is a beginning, staying together is progress, and working together is success."
We place our clients ahead of anything and everything else, our transformation services evolve around the client's needs and requirements, and we strive to build healthy relationship and provide the best-possible experience to them with our supreme capabilities and track of record of delivering strategic, customisable, and impactful solutions.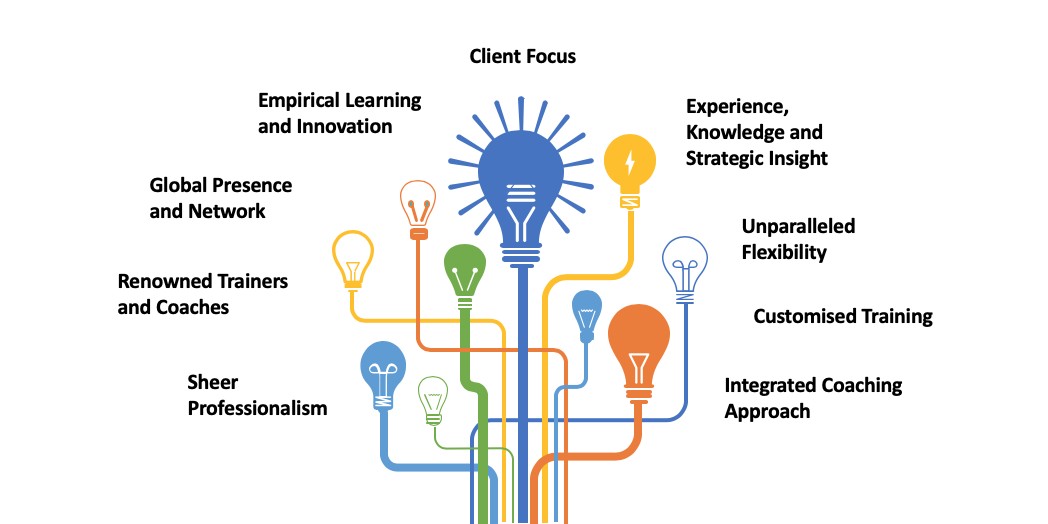 How can Leadership Tribe help you?
Find out how we can help create more value for your team leaders and members with our agile courses and contact us today.