Good product design emerges out of an applied iterative methodology aimed at meeting customers' needs. For example, a good start would be to ask How and why does the customer use a product or access a system? and under what conditions? To begin the design thinking process, the most dynamic approach is rooted in team-based collaboration and UX design. This is what the Leadership Tribe are experts in and can help your business team explore.
Design team thinking and consultancy at their best focus upon metric-driven and highly empathetic immersion in the end user experience. Deeply innovative product development successfully empowers stakeholders to anticipate, meet, and improve customer experience and new users' expectations.
Benefits of design thinking
What do your customers want? To know that, find out how they feel about what they want. A good design thinking approach provides this deeper understanding of your customers and even of your own product. Whether you're a startup or seeking a product or service redesign, design team collaborations produce the most innovative solutions to a variety of marketing challenges. Different perspectives on the design process, problem solving, and possible solutions to customer hesitancy or dissatisfaction all strengthen marketing strategies, improve current users' engagement, and help draw new customers.
Importance of design
The importance of design is well appreciated by both entrepreneurs and established stakeholders, but product design must also speak to the human-centered user experience of your product or service. You may feel able to intuit the response of existing and potential customers to your new product, but you need not base that intuition entirely upon a hunch. Human needs and satisfaction are identifiable and measurable, and in design thinking the individual end user is more important to your marketing success than either the mechanics or the usage requirements of any process or product.
Brainstorming Ideation
You've tapped your inspiration to develop the product, you have a good idea of customers' and users' needs, and yet you suspect that many potential customers cannot be counted upon to respond to the product the way you hope. It's time to begin ideation brainstorming sessions. In the phases of design that shape the best product development process, ideation sessions are a dynamic and necessary step.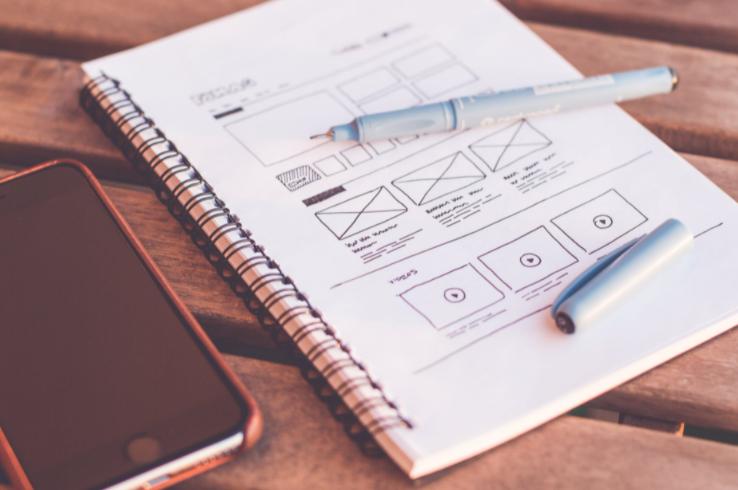 Collaboration on Design
Ideation sessions tap the different perspectives of your design team members on how a stakeholder may best proceed toward successful product development. The goal of ideation is a  deeper understanding of customers' needs and user experience; the process of ideation encourages each team member, each design thinker, to contribute their own fresh and contrasting perspective. To think outside the box in this way requires empathy and openness to the varieties of human response and needs that emerge and energize these ideation sessions.
The best creative problem solving requires that problems first be identified and understood. Creative solutions to identifiable marketing hurdles are often based upon how a product is first perceived, and how that product is actually used. To guage how a product fits with a customer's habits and needs may include questions about color, texture, even the feel of an object in the hand, placement in a store (and in which store), ease of use (Is the packaging, software or website intuitive?), and even whether the retail look should be business or casual. Each team member brings their own expertise and experience to these brainstorming sessions so that the resulting prototype is focused on human needs and personal experience, as well as perceived market demands and actual constraints.
Prototype Design
Ideation sessions complete, it's time to implement the final stage of the design process and test the prototype product or service. Now, the innovation and creative work of the design thinker will meet the real life needs and ever flexible perceptions of the end-user. Because you already understand your target user, a small-scale introduction of your product should provide a good foundation for an evaluation of user needs and user satisfaction. Informed by insights gained in the ideate phase, prototype testing will yield useful and empathetic evaluations based upon these end user responses. You may experiment with concepts, techniques, and aesthetic cues discussed in the ideation sessions. With your ideal end user in mind, the prototype will help highlight any obstacles to full usage, hindrances to process understanding, or barriers to satisfaction with what the product is intended to deliver.  Learn more about the 5 key stages to design thinking.
Takeaways from the prototype phase are tools the entrepreneur or stakeholder uses to build trust in a product and better respond to their customers' human needs. For example, everyone has visited a website to shop or to seek information about a product or service. Our needs are straightforward at that point and we give little thought to how the site is constructed . . . until it becomes difficult or confusing to navigate. Then, we move to a more user-friendly site and never go back. Our human need for a seamless and intuitive shopping or research experience makes us loyal customers of businesses that provide that experience. In this case, the product or service for sale may have met the end user's human need, but the access to it did not. Good design thinking through the prototype phase provides the insights into human needs and response that are key to building a satisfying end user experience.
Learn more about Why Design Thinking is important with online courses from Leadership Tribe today.